Fix the Magic Bullet Juicer
If you are reading this you probably already discovered that the Magic Bullet Juicer is not built to last. The juicer bullet usually suffers from a broken cross blade or plastic gear in the power base. But don't worry, there are a few solutions to get your juicer bullet working again.
Juicer Bullet Warranty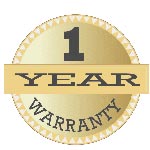 The juicer bullet has a one year manufacturer's warranty. If your warranty hasn't expired, you should be able to get replacement parts or a new unit directly from the manufacturer. You can contact Ho meland Housewares at 1-866-4HOMELAND (866-446-6352), their customer service is available Monday through Friday from 9am to 8pm, from 9am to 4pm on Saturdays and from 10am to 4pm on Sundays, Eastern Time.
When requesting replacement parts the manufacturer will require you to prove that you purchased the Magic Bullet juicer directly from them or to prove that your Magic Bullet Juicer is an original version manufactured by Homeland Housewares since there are fake devices in the market (our Juicer Bullet Deals section helps you spot a fake blender bullet). This is what they are going to request from you:
"Please send us a copy of the following pages from your 10-Second Recipe book and User guide as follows: 10-Second Recipe book (open to back pages showing the 1-year limited Warranty) 10-Second Recipe book (front cover) 10-Second Recipe book (back cover) We also require that you send pictures of your main base. Please include the following pictures below: Magic Bullet Power Base (back showing the vent holes) Magic Bullet Power Base (back showing the label and any serial numbers) Magic Bullet Power Base (looking from the top down into the unit, showing the center gear and liner) Magic Bullet Power Base (bottom of the unit showing bottom vents and feet) "
Replace Juicer Bullet Part
Cross blades and new power bases can be purchased directly from the manufacturer as long as you have proof that your juicer bullet is the original by submitting the information requested above.
Users have reported that the manufacturer sells the juicer bullet base for $19.98 (S&H included) and the blender bullet cross blade for $8.98.
If you don't have proof of purchase and you don't want to waste your time submitting the pictures or if you don't have the original juicer bullet and the manufacturer doesn't want to sell you Magic Bullet juicer parts you may want to consider buying them on eBay.
Fix the plastic gear yourself
This is probably the fastest and cheapest solution if you don't mind sacrificing one blade and testing your manual skills. If the problem you have is with the plastic gear in the power base, you can fix it by removing the gear from one of the cross blades and use it as a replacement for the gear on the power base. Several users have tried this with success.
This website contains detailed instructions on how to do this www.ehow.com/how_5137984_repair-magic-bullet-blender.html