Does the Magic Juicer Bullet really work?
The magic juicer bullet is an easy to use addition to the magic bullet blender. For a very reasonable price you get a juicer and a blender in one small device. If you want the juicer make sure you purchase the Magic Bullet Juicer set that includes the two parts required to convert it into a juicer. Not all sets sold in the market include the juicer bullet. Check Magic Bullet Deals
The Magic Juicer Bullet excels at certain tasks but it doesn't quite live up to all the claims that are advertised. The Magic Juicer Bullet is the perfect juicer if you usually prepare juices and smoothies for one or two people and have limited time to prepare a meal (for larger meals consider the Bullet Express meal machine). The juicer bullet is versatile, fast and easy to use; however there are some pros and cons to consider before you buy it. Note that this is not the official Magic Juicer Bullet website.
Pros of the Magic Juicer Bullet:
Cons of the Magic Juicer Bullet:

- Small size juicer and blender in one
- Great for smoothies
- Easier to clean than other expensive juicers
- Microwave safe
- Convenient mug-shape blending cups
- Good value
- Dishwasher safe

- Not best juice extractor in the market
- Too small when preparing juices and smoothies for more people
- Not useful for chopping certain items
- It will overheat and break if you continuously blend/chop and leave it on like a regular blender
Below you can read more about consumer reviews and how to find the best price for your Magic Juicer Bullet.
Make juice & smoothies faster with the Magic Juicer Bullet
The magic juicer bullet is a versatile juicer and blender which can be used as a juicer, smoothie maker, coffee grinder, a chopper, a blender, a sandwich spread maker, soup mixer and more. It is not the best juicer in the market but it makes great smoothies. Its versatility, ease of use and reasonable price make it a very good purchase.
It's a quick and easy way to prepare a variety of drinks and meals when time is limited. Preparation takes less than 10 seconds on average!
Juices, Smoothies & Shakes
Cool, refreshing, quick! Juices, smoothies and shakes are great as healthy snacks, light meals, or desserts. A FUN and EASY way to get more vitamins & minerals into your diet. The magic juicer bullet is the perfect juicer and smoothie machine! Mix and match your favorite fruits and vegetables to make healthy juice loaded with vitamins and minerals.

Dips & Spreads
Guacamole, Spinach & Artichoke, Salsa, Egg salad…you name it! The blender bullet allows you to create your own dip whether in company or just for yourself.
Frozen drinks & cocktails
Looking for something more than the average chilled drink? There is no need to prepare a big jar and make everybody drink the same cocktail or refreshment; with the juicer bullet self-blending party mugs everybody can have the drink of their choice!
Sauces & Soups
Home-made meals are making a comeback thanks to people looking for healthier lifestyles. Using this magic juicer bullet to prepare soups and sauces is a convenient, inexpensive and quick way to create a meal in just seconds.
What you get in the Magic Juicer Bullet Set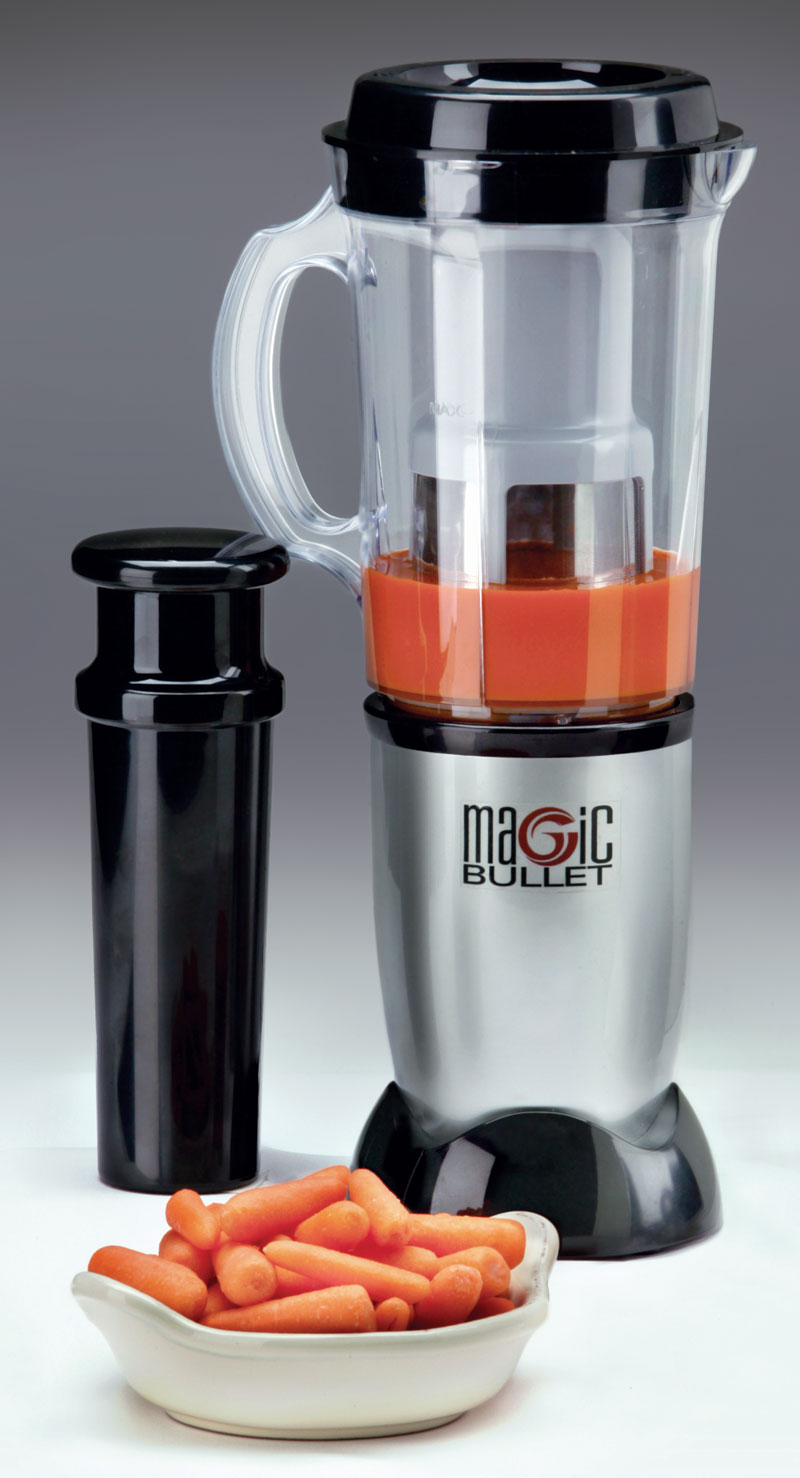 Most sets include a high-torque power base with a stainless-steel cross blade and flat blade, a tall and a short bullet cup, four party mugs with colored lip rings, a shaker top and a steamer top, two stay-fresh re-sealable lids, plus a 100-page Magic Bullet "10 Second Recipe" book.
Not all sets include the pieces required to convert the magic bullet into the juicer bullet so make sure you buy the right set!
It is easy to assemble; simply plug the magic blender bullet and place any of the bullet cups on to the base and press.
Each blade is designed to serve a specific purpose. The cross blade is created for chopping, grating and blending foods.

The flat blade is ideal for whipping cream and grinding coffee beans and spices.
The magic juicer bullet set comes with different cups and lids. The small cup is ideal for dips and spreads and the tall cup is much more versatile. The four party mugs are ideal for smoothies, juices and cocktails. Each one comes with a colored lip ring to make it easier to differentiate. The steamer lid is great for steaming foods in the microwave using the same magic blender bullet container.
The set includes a recipe book with hundreds of recipes and ideas to mix and match different vegetables and fruits and create your own healthy juices.
How the Magic Juicer Bullet Works
To start juicing, simply place the magic juicer bullet attachment on the power base and the pulp container securely. With the feed tube pusher, push the vegetables and fruits in the feed tube and press down to start juicing.
To use the Magic Bullet as a blender, just load the ingredients into the short cup, the tall cup, or one of the four mugs. Twist on the cross or flat blade, place the bullet on the power base, and press down. The magic blender bullet can do virtually any job in the kitchen in a few seconds. To heat or chill, place the bullet cup or mug in the microwave, refrigerator, or freezer. All parts except for the power base clean up easily by hand or in the dishwasher. The magic juicer bullet measures approximately 4 by 4 by 10 inches and carries a one-year limited warranty.
Magic Juicer Bullet & Healthy Eating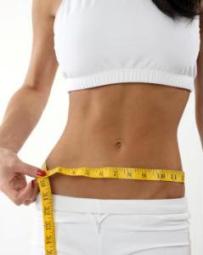 Most weight loss programs, diets and detox routines are based on the proper combination of fruits and vegetables. Whether it's a soup, a smoothie or a juice you will always need a juicer and a blender to follow almost any weight loss programs or healthy eating diets.
The Magic Juicer Bullet is the perfect accessory for these programs because you can prepare drinks in just seconds and it's easy to clean and store. Some diets require you to drink vegetable and fruit juices every 3 to 4 hours. With the juicer bullet party mugs you can prepare them all at once and then store them in the refrigerator or carry them with you. It is a very convenient solution! Use the juicer bullet to lose weight and eat healthy.

Magic Juicer Bullet Reviews
Magic Juicer bullet consumer reviews indicate that this personal juicer and blender is useful and convenient but limited. It is more of a blender than a juicer so if you want a serious juicer there are probably better options in the market but they can cost a few hundred dollars more.
An average review will indicate that the magic juicer bullet is ok to make juices but very useful for whipping items and smoothies but it is not great for chopping items. It is easy to store and easy to clean but the cups included in the magic juicer bullet set are really small.
Some really positive customer experiences indicate that this magic juicer is wonderful for a healthy lifestyle. Some people use it every day to prepare juices, smoothies or protein shakes. But even those who recommend it also point out that it is hard to get an even chop without making a mush and it can sometimes be difficult to extract enough juice from fruits and vegetables.
Some of the negatives pointed out by consumers refer to the inability to chop vegetables and its limitations as a juicer.
Overall, the magic juicer bullet is great mostly for drink making or liquid foods. Click here to read magic juicer bullet reviews.

Magic Juicer Bullet Discounts
The magic blender bullet can be found in many retail and online stores but not all of them carry the version with the juicer bullet attachment. Several online stores ship it for free and some of them don't charge you tax depending on your state. You can find it on websites like Amazon.com for $59.99 with free shipping or Bed Bath & Beyond for as low as $49.99 plus additional shipping unless you buy more stuff from them to get free shipping.
These low prices also include all the cups, blades, lids and the recipe book. If you prefer to buy it in a retail location, Bed Bath & Beyond gives you a 20% off one item in-store Savings Certificate when you subscribe to their free newsletter for the first time. Costco also sells the 25-pc Magic Bullet blender set for $49.99.
You can also purchase it directly from the manufacturer's website. The price is higher but they give you two systems at the price of one ($99.99 plus S&H) and they include the parts required to convert the blender into the juicer bullet. This is great if you want to buy one for yourself and one for gifting.
There are also fake juicer bullets in the market so always purchase from a website or retailer you can trust. Our Juicer Bullet Deals page has tips on how to spot a fake blender bullet.
Great Recipes for the Juicer Bullet
Prepare these delicious juices with the juicer bullet. Make healthy juices, smoothies and shakes, soups, dips and much more in seconds! Juicer Bullet Recipes